Built Beautiful
An Architecture & Neuroscience Love Story with Narration by Martha Stewart
Inspired by the book, Beauty, Neuroscience & Architecture, by Don Ruggles AIA, Built Beautiful is an exploration of the emergent movement to apply neuroscience to the study of beauty.
Built Beautiful is a documentary about the healing powers architecture
For centuries, humans have sought to express beauty in architecture and art, but it is only recently that neuroscience is helping to determine how and why beauty plays an important role in our wellbeing.
What Makes a Building Beautiful?
Which elements of the built environment does the brain recognize as beautiful?
Architects and neuroscientists are embarking on a new field of study in which subliminal responses to one's built environment may influence the future of design. Experts argue that positive subliminal reactions lead to a pleasurable experience, one reminiscent of a powerful meditation session.
PAST
Philadelphia Independent Film Festival 2021, Philadelphia, Pennsylvania, May 10-15, 2021
California Capital Documentary Film Festival, Rancho Cordova, California, October 14-17, 2021
Denver Film Festival, Denver, Colorado, October 22-Nov 8, 2020

Boston Architectural College, Boston, Massachusetts, December 7, 2020
TAG4 Classic Planning Institute Conference, Washington, DC, March 19-28, 2021
ByDesign 21 Film Festival, Seattle, Washington, March 19-28, 2021

Sonoma International Film Festival 2021, Sonoma, California, March 24-28, 2021
College of Architecture & Planning, University of Colorado Denver, Denver, Colorado, April 7, 2021
LivABLE Canada Conference, Toronto, Canada, April 28-30, 2021
PRODUCERS
Donald H. Ruggles
Donald Zuckerman
Barbara Bridges
Mariel Rodriguez-McGill
EXECTIVE PRODUCERS
Judi Newman
Robert Newman
Martha Stewart
Matt & Laura Briger
Bruce & Martha Clinton
Stratton Smith
DIRECTOR
Mariel Rodriguez-McGill
CAST
Renee Fleming
Meredith Banasiak, M. Arch., EDAC
Nicholas Boys Smith
Hans Butzer
Dr. Anjan Chatterjee
Kevin Cusick, AIA
Duo Dickinson, FAIA
Colin Ellard, PhD
Nan Ellin, PhD
Emily Grant
Justin Hollander, PhD
CAST
Melissa Mabe, AIA
Allan McRobie
Tiziana Proietti, PhD
Donald H. Ruggles, AIA, NCARB, ICAA
Nikos Salingaros, MA, PhD
Misha Semenov
John Simpson, RIBA, INTBAU
Sean Smith
Ambrose Soehn
Ann Sussman, AIA
"Fantastic job. I hope it is distributed and viewed widely."
■ Anjan Chatterjee, MD, Neuroaesthetics Institute, University of Pennsylvania Medical School
"Buildings, public spaces, and architectural details affect our health directly. The evidence is overwhelming. The new knowledge is going to revolutionize design."
■ Dr. Nikos Salingaros, University of Texas San Antonio, San Antonio, Texas
"Game Changing film" …a tour de force"   
■ Justin Hollander, PhD, Tufts University
"For ages we have known that design affects the quality of communities, life, health and happiness. Built Beautiful reveals new scientific evidence to prove it." 
■  Herb Schaal FASLA
"This is just fantastic!  Thank you so much for sharing. We are looking forward to supporting this work."  
■ Susan Magsamen, Executive Director, International Arts + Mind Lab, Brain Science Institute, Johns Hopkins University School of Medicine
"Sturdy and thought-provoking" 
■ The Denver Post, Oct 23, 2020
"This film has establishes that a phenomenon called beauty does exists which is cross cultural and something that we all share as human beings."
■ John Simpson, RIBA, Architect, London, UK
"Built Beautiful kicks open the door to understanding the health benefits of architecture and design."
■ Mike Peterson, Visionary Design Marketing, Boca Raton, Florida
"A primer for those unaware that the built environment is impacting their behavior every day."
■ Frederick Marks, President, Academy of Neuroscience for Architecture, San Diego, California
"Hugely impressed. A masterpiece!"
■ Mark Gelernter, Dean of College of Architecture & Planning, University of Colorado Denver (retired)
"An insightful look at the evolving discipline of neuroscience to create built environments that advance health."
■ Robert Horsburgh, Jr., MD, MUS, Professor of Epidemiology, Biostatistics, Global Health & Medicine, Boston University Schools of Medicine and Public Health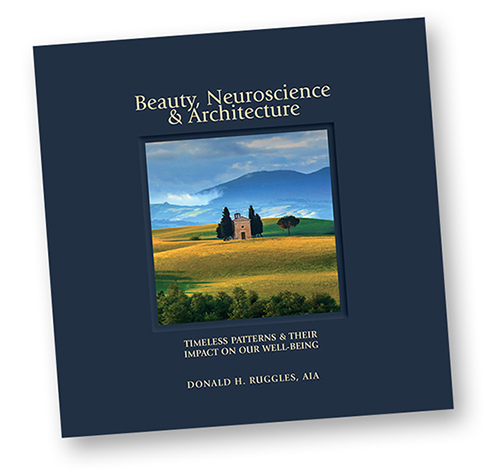 Beauty, Neuroscience & Architecture
Timeless Patterns and Their Impact on Our Well-being
Donald H. Ruggles AIA
This is the book that inspired this movie.
CLICK HERE FOR MORE.